Australia Awards Scholarship (AAS Scholarship) – 2020
Australian Award Scholarship Online Application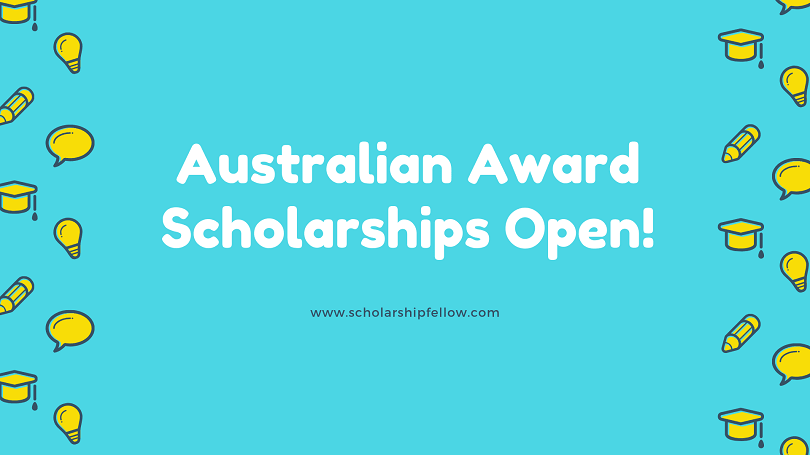 The Australia Awards Scholarship 2020 are now open for international students to apply for degree programs in Australian Universities. Australian Award Scholarships (AAS Scholarships) are the prestigious scholarship for those students around the world who want to pursue undergraduate or postgraduate degrees in Australia. Australian award Scholarship is providing an opportunity to the citizens of developing nations, especially those in the Indo-Pacific region, to study in the leading Australian universities.  Through this scholarship program, the awardees will earn a chance to strengthen their knowledge and skills and then play a role in the development of their home country.
Australia Awards Scholarships Coverage and benefits
. Following are the main benefits that will be offered to successful candidates.
Full tuition-fee will be waived
A single economy class return air-ticket (from home-country to Australia and Australia to home-country) will be provided
An establishment allowance of worth AUD 5000 will be paid once for arranging accommodation, study related stuff and textbooks
A grant for fundamental living expenses will be given twice monthly at the rate being specified by the department. Since January 1, 2013, this grant is AUD 3000 per annum.
An obligatory four to the six-week program based on the information about study and life in Australia will be offered before the start of proper studies
Basic medical insurance will be provided to the award holder throughout the award duration
Additional support in academics  can be offered for  ensuring the scholarship holder's success in  academics and enhancing his experience
No financial assistance will be provided by the Government of Australia for the dependents of award holder.  The awardees will be solely responsible for supporting their accompanying family members.
Australian Awards Scholarships Eligible Countries list
The regions eligible for this award are Africa, Bhutan, Vietnam, Papua New Guinea, Nepal, Timor-Leste, Indonesia, Kiribati, Sri Lanka, Palestinian Territories, Maldives, Cambodia, Republic of Palau, Bangladesh, Myanmar, Philippines, Solomon Islands, Federated States of Micronesia, Tuvalu, Nauru, Fiji, Tonga, Wallis and Futuna, Marshall Islands, Vanuatu, Mongolia, India, Samoa, Nepal, Pakistan and Laos.
Eligibility Criteria for Australian Scholarship:
The major conditions for the Australia Awards Scholarship as per the Australia Awards Policy Handbook  are:
The applicant should be at least 18 years old or more at the time of commencement of Australian Award scholarship
The applicant must be a citizen of any of the participating countries
There must be no problems in passport or  immigration
The applicant must acquire an Australian student visa
Citizens of Australia or those having permanent residency in Australia are not eligible for this award
Country specific further requirements for Australian Award Scholarships can be found here.
Australian Awards Scholarship English Language requirement:
The English language requirement set by the Department of Foreign Affairs and Trade (DFAT) will be met by an applicant under two conditions, i.e. English is the native language of the applicant and he has received education in English (academic transcripts are required as evidence in the latter case).
In the case where these DFAT'S requirements are not met, the applicant has to provide the result of an academic test for the English language before the commencement of the main study program. The acceptable tests for the English language are TOEFL, PTE Academic and IELTS.
The validity of these English language test results is normally two years. The applicant must meet the required timeframe of test result validity set by the concerned institution.
The applicant must have the following test scores to avail the scholarship.
IELTS: a minimum overall band of 6.5, without any less than 6.0 band
TOEFL: minimum overall score of 580 in a written test, with at least 4.5 scores in the test for English writing, or a minimum overall score of 92 in an internet-based test, with at least 21 scores in all the subtests
PTE Academic: a minimum total of 58 with 50 or more score in communicative skill
If the English language requirement of any institute is more than that of the requirements of DFAT, then the award holder has to fulfill the requirement of an institute.
How to apply for Australia Awards Scholarships?
Before applying for this scholarship program, take note of the opening and closing of application dates for Australian scholarships for your country.  Then choose your resident country among the participating countries for Australian Awards Scholarship to acquire precise information regarding the eligibility criteria, preferences, and the application procedure.
Some countries prefer online submission of applications while others encourage hard copies of applications. Check the required method for your country for Australian scholarship by selecting the name of your country.  Moreover, country-based information is also available on a website designed by the Award department of Australia for West and South Asia. Access the Australian Scholarship website and get a complete application guide by clicking on the name/flag of your country.
Australian Awards Online Application Procedure:
Get yourself registered on Online Australia Scholarships Information System (OASIS) by answering a few questions to prove your eligibility. After successful registration, you will be provided with a unique username, registration number, and password. There is no compulsion of submitting the application form immediately. You can initiate your application and update it with time until the closing date of application submission. You cannot change your application, once it is submitted. The applicants are advised to complete and submit their application well before the deadline since a peak usage is experienced by OASIS in the dates closed to the deadline, which may result in the delay of your application submission.
How to submit an Australian Awards Scholarship application by mail?
If you are facing any problems in the online submission of application, you can also send your application via mail. You can get a hard copy of application form and other specific templates like referee reports etc. for your country.
Australian Award scholarship document requirement for online application?
The following documents are to be submitted along with the Australian Award Scholarship application form:
An attested copy of original degree document
Attested copies of all the official educational records/transcripts
An attested copy of birth certificate, national identity card, and passport
A brief curriculum vitae (CV) based on your work and research experience (if applicable)
Minimum one academics and one work based referee report. For research-based MS and Ph.D. degrees, two academics related referee reports are to be provided following the preferred template for referee report.
An attested copy of TOEFL or IELTS valid test results
For Ph.D. applicants, a letter or email of acceptance from a potential research supervisor is to be provided. Any such acceptance letter is not required for course-based studies. However, you can submit a research proposal with the application.
In case of being awarded the Australia Awards Scholarship, the Ph.D. applicant has to submit a Research proposal to the institute.
Australian Awards Scholarships Terms and Conditions:
The award holder has to commence studies in that academic session for which the scholarship is offered
Only that course can be undertaken by the awardee for which he has been awarded the scholarship
The scholarship holder must abide by the rules of Australia in general and his institute in particular
During the award period, the awardee should maintain a full-time study program and show satisfactory progress in academics
A direct and clear communication must be maintained with Department of Foreign Affairs and Trade Australia through the scholarship holder's contact officer
The awardee is required to leave Australia for at least two years after the end of the Australian Award scholarship program