English Teaching Jobs China – ESL Teaching Jobs in China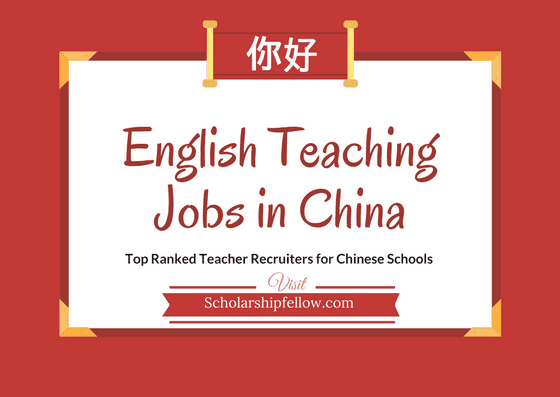 Apply for an English Teaching Position in Chinese Schools or Training centers to become one of the highest paid English teachers in the world. ESL Teaching Jobs in China is your gateway to be a part of an international Kindergarten schools chain in China. China is one of the top emerging economies in the world, where people want their kids to learn the English language to help boost their economy by trading with Western countries by proper communication. Chinese people are rich enough to pay high salaries to the Native English Language Teachers to teach in Chinese schools. The average salary of an ESL Teacher in China is between 13,000 RMB to 40,000 RMB based on experience level and other qualifications. Nearly, all the Chinese schools provide free housing, free utilities, return flight tickets, accidental and medical insurance coverage and paid holidays to all of their English Language Teachers with salary range as mentioned earlier.
We partner with top-ranked international school chains in China to provide them with qualified Native English Language Teachers. There are some other vacancies also available to teach music in Chinese schools, to teach dance in Chinese schools and to teach other languages in Chinese schools. However, there are some requirements to recruit English Language Teachers for schools that must be meet some requirements specified by the Chinese government to apply for a Chinese Z type Work VISA, for English Teaching Job in China:
Chinese Work VISA requirement for ESL English Teachers:
What are the requirements for Chinese Work VISA?
There is an upper age limit for English teaching positions in China which must be under 60 years
All English language teachers must belong from Native English Speaking countries
You must hold a bachelor's degree to support your Work VISA application for job in China
Two years of work experience is also necessary in order to apply for a teaching position in China
TEFL 120+ hours or TESOL certificate is also required, in case you don't have one, we can help you get it upon your arrival in China
How to apply for Chinese Work VISA for ESL English Teaching Job?
Once you have been interviewed by one of our partner schools, you will receive a job offer to accept. The school will also send you a job invitation letter to travel to China. The process of applying for a Chinese Work VISA for English teaching is very simple. You need to visit a Chinese embassy in your country along with listed documents to apply for Chinese Z Type work VISA.
Which documents are required for Chinese Work VISA for a teaching job?
A passport having validity of more than 12 months at least
Job invitation letter from School where you will teach
A foreign Expert Identity: (This document will be sent to you by the school and you need to attach it to your documents)
A formal health examination to be completed in your country
How to arrive in China to teach the English Language in Chinese Schools?
After receiving Z type work VISA for China, you will be thinking about your journey and what to do when you arrive at a Chinese airport. So this short guide will help you go through with important key points:
Upon your arrival in China, please report to the local police station about your residency to obtain a temporary residence permit. (It will be arranged by your school – but don't forget to ask for it)
The next thing will be to begin teaching in the school and to enjoy your life in China
Latest ESL English Teaching Job Offerings in China – Teach English in China
We have a network of over 400 internationally renowned schools in China. By applying through us, you will be offered very competitive job offers from our partner schools with attractive side offerings such as free accommodation, return flights, paid holidays and much more. Our teachers will be received at the Chinese airports a++nd we will be happy to help them to get started with their life in China. In case, our teachers find any problems with school or any other matters then we will always be there to help them on the top priority basis. We are the top-ranked ESL teacher recruiters for Chinese schools at the moment.
Send your resume @ esl@scholarshipfellow.com