[Pro Guide] Letter of Reference (LOR) In 2021 (Sample Included)
Learn To Write An Impressive Letter of Reference (LOR) for Graduate School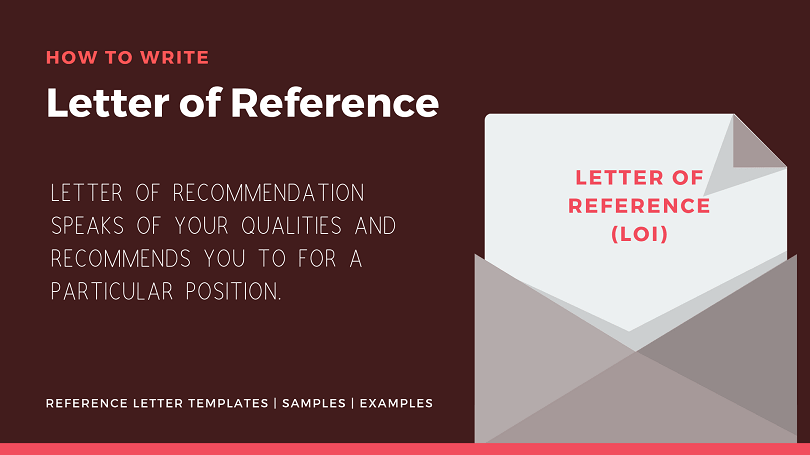 Last Updated on January 14, 2021
Introduction.
Letter of Reference (LOR) is also referred to as the letter of recommendation which speaks of the qualities, abilities or academic achievements of a person requesting the letter.
The letter of reference or the letter of recommendation is the letter which is written by your senior, colleague or under whom you have worked before. It is a letter that boosts your chances to get admission in the graduate program.
Let's learn how to write an efficient Letter of Recommendation.
Professors are the building block for every student pursuing a degree in the college. They are the main reason for setting up a backbone for a college. They have got a lot of jobs to do, both "paid" and "unpaid".
One of the most famous "unpaid" tasks which are done by them is setting up a letter of recommendation for students who wish to apply for graduate school.
Although it's an "unpaid" task, but still most of the professors have got no problem in doing this as it helps in fulfilling the dream of the students who have excelled in their classes.
However, writing this letter takes a lot of their time. As a result, they often write this letter during their personal time i.e. the time when they should relax after teaching.
How to Ask for a Reference to a Graduate School?
If you have set up a target for a graduate school and need a letter of recommendation then always try to make things as easy as possible for your professors by giving them all kind of necessary information:
A copy of your resume
A list of your academic achievements and grade point average (GPA)
A list of your participation in extracurricular activities and
The most important thing i.e. the deadline for the submission of the letter to the graduate program
A well-organised letter of recommendation from a professor will not only provide you with the acceptance into the graduate school but will also convince the department faculty to give you fellowship funding for tuition and expenses. It may also give you an opportunity for paid employment as a researcher or a teaching assistant.
Note: Make sure to give your professor ample "lead time" to write a detailed and powerful letter for you.
If you will ask your instructor to write a letter in the middle of a heavy grading period during the final weeks and giving a time span of one day or less, then either he will refuse to do it or he will dash off a quick letter that doesn't convey the message strongly.
Sample Letter of Reference (LOR) for Graduate School
Given below is an example of a letter of recommendation for graduate school.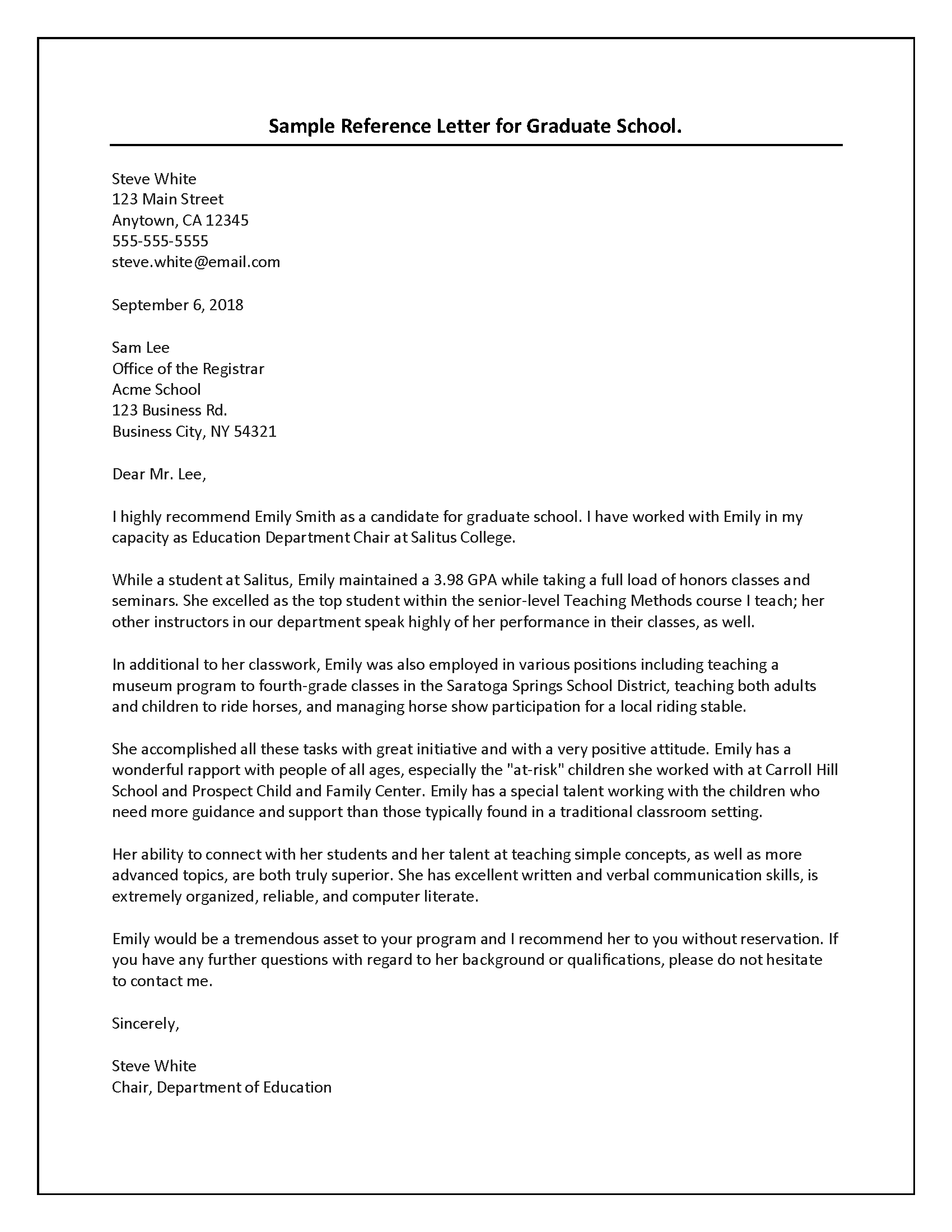 Sample – Reference Letter for Graduate School
We have also provided with one more reference letter which is a letter thanking the reference provider for recommending you. It's really very much important to thank your professors for their help.
Steve Sugars
123 Low Street
Thorntown, CA 12345
515-888-1535
steve.wsugarte@emmail.net

September 6, 2019

Sam Lanistors
Office of the dean
Acme My School
126 Business street downtown NY.
Business Tower, NY 54301

Dear Mr. Sam,

This letter is a recommendation letter for Peter Blake as a candidate for the graduate program. Peter has worked with me in my capacity as Education Department Chair at Cornell Tech.

Peter maintained a high GPA of 3.95 in his semesters apart from attending all the seminars and classes. He excelled as the top student within the senior level Teaching Method course I teach; not only me but many of his professors speak a lot good about him.

Apart from his classwork, he also teaches fourth-grade students in the Saratoga Springs School District, taught both the adults and the juniors to ride a horse as he is good at playing Polo. He is also a good athlete.

Peter is the member of the Rotaract Club of the college. He has served a lot of people in the hospitals and the old age homes. He has also taught many needy children who have got less money to rely on. He has got really a special talent working with children who need more guidance and support than those typically found in a traditional classroom setting.

His ability to connect with his students for advanced topics is really well. He has also got excellent verbal and written communication skills.

Peter will be really a tremendous asset to you in the grad program. I feel really proud of recommending him to you. If you have got any queries regarding his background and other issues then do not hesitate to contact me.

Sincerely,

Steve Sugars
Chair, Department of Education
Thank You Letter to Graduate School for Letter of Reference issuance
We have also provided with one more letter which is a letter thanking the reference provider for recommending you. It's really very much important to thank your professors for their help.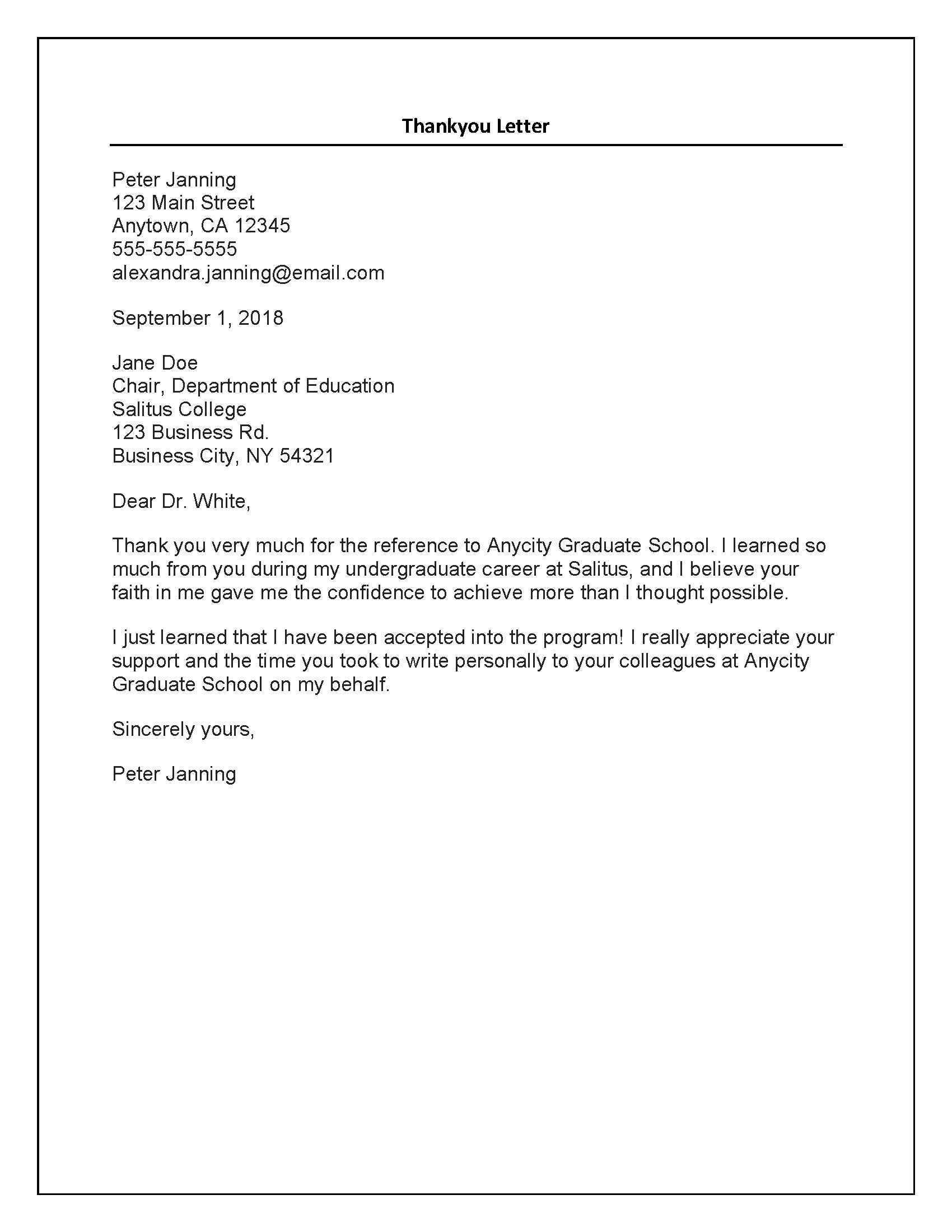 Peter Jumin
123 Main Road
Yourtown, CA 12345
555-555-5555
Emailjumiun@email.com
September 1, 2019

Doe Green
Chairperson, Department of Education
My College Name
123 Business Rd.
Business Town, NY 54321

Dear Dr. Browne,

I am really very much thankful for your reference to Anycity Graduate School. During my undergraduate career, I have learned a lot of things from you. I have got a firm believer in you. Your faith in me gives me more confidence to achieve more when the sky is the limit.

I just came to know that I have been accepted into the graduate program! I am really thankful for your support and the time you took to write personally to your colleagues at Downcity Graduate School on my behalf.

Sincerely yours,

Peter Jumin