Sample Letter of Reference (LOR) for Graduate School
Letter of Reference example for Graduate School from a Manager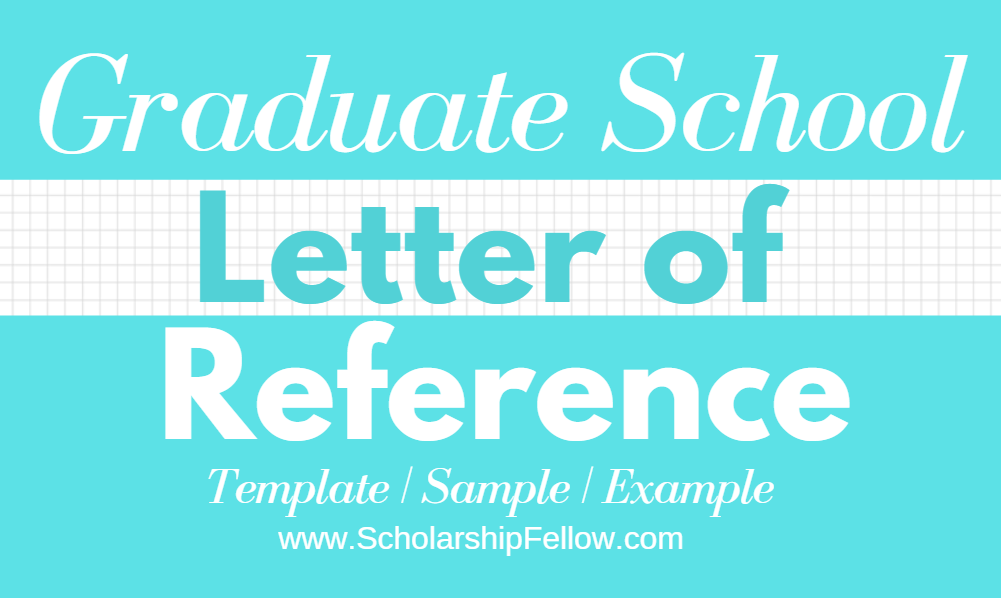 Introduction.
A well-organized letter of reference for an individual is very much important to get admission to a graduate school. Most of the employees go for further studies. They do it just for one sole reason i.e. to increase their value to their employer. Obviously, it will help them to get a higher salary.
They have to face strong competition to get admission in a good graduate program. They also have to fight for financial aid resources. They need these resources to compensate for the costs of tuition, books and other useful supplies.
Note: If you, as a manager, are asked to provide a reference letter for an employee, keep in mind that all the details which you are providing about the employee are very much crucial for them to stand out from their competitors for the graduate program.
What to include in your Graduate School Letter of Reference?
In your letter of reference for graduate school, you should provide this important information:
Give a brief summary of your history with the employee which should include information like the meeting of the employee with you, time of joining of the employee, etc.
A legit description of the properties that you believe will help your employee to increase the chances of approval in the graduate program.
Contributions that the employee has brought to your organization.
A strong closing statement of approval for your employee's candidacy.
The sample of Letter of Recommendation for Graduate School from a Manager
This is the example and template for a letter of reference for graduate school from the employer: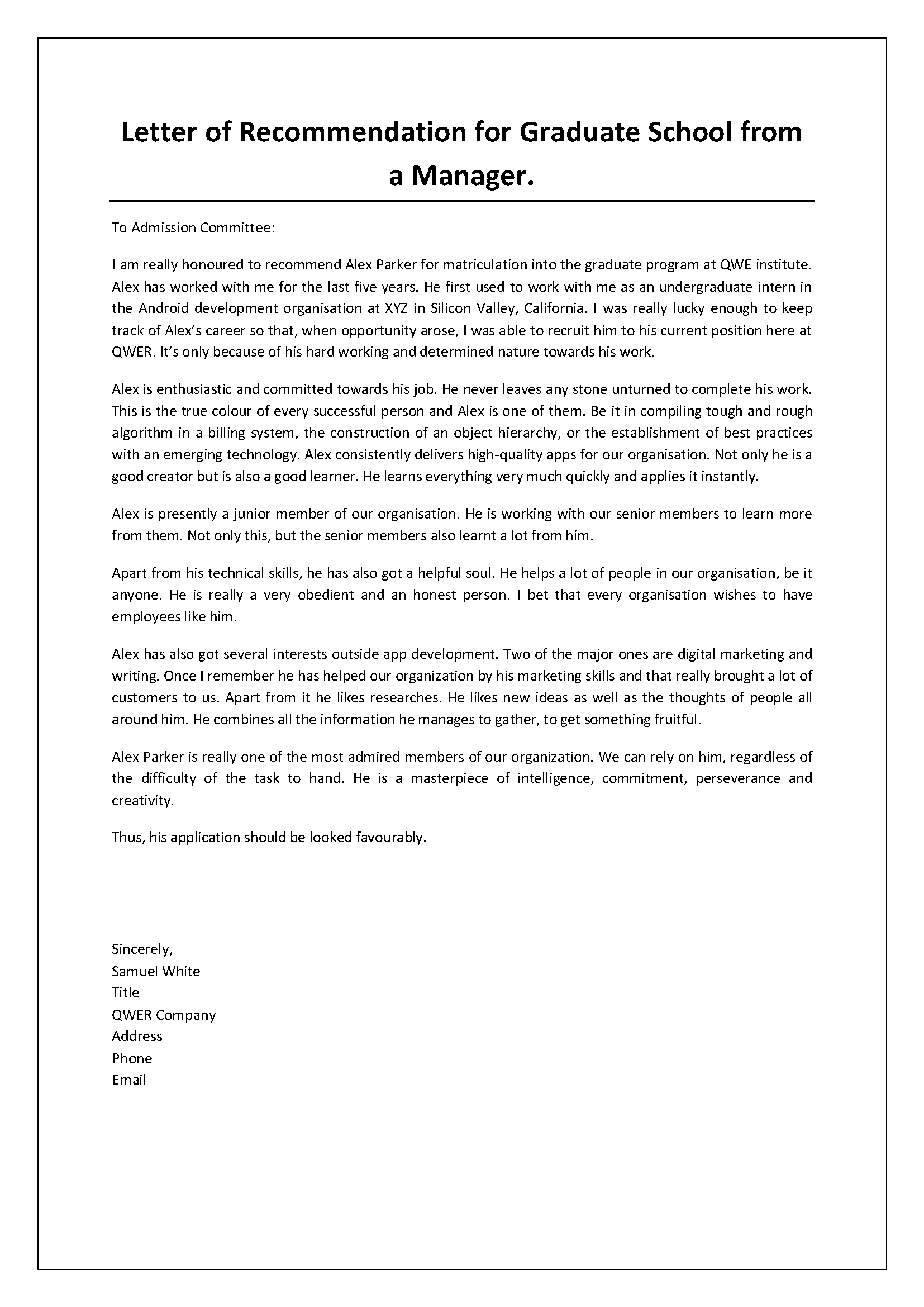 To Admission Committee:
I am really honored to recommend Alex Parker for matriculation into the graduate program at QWE institute. Alex has worked with me for the last five years. He first used to work with me as an undergraduate intern in the Android development organization at XYZ in Silicon Valley, California.
I was really lucky enough to keep track of Alex's career so that, when the opportunity arose, I was able to recruit him to his current position here at QWER. It's only because of his hardworking and determined nature towards his work.
Alex is enthusiastic and committed to his job. He never leaves any stone unturned to complete his work. This is the true color of every successful person and Alex is one of them. Be it in compiling tough and rough algorithm in a billing system, the construction of an object hierarchy, or the establishment of best practices with emerging technology. Alex consistently delivers high-quality apps for our organization. Not only he is a good creator but he is also a good learner. He learns everything very much quickly and applies it instantly.
Alex is presently a junior member of our organization. He is working with our senior members to learn more from them. Not only this, but the senior members also learned a lot from him.
Apart from his technical skills, he has also got a helpful soul. He helps a lot of people in our organization, be it, anyone. He is really a very obedient and honest person. I bet that every organization wishes to have employees like him.
Alex has also got several interests outside app development. Two of the major ones are digital marketing and writing. Once I remember he has helped our organization by his marketing skills and that really brought a lot of customers to us. Apart from it, he likes researches. He likes new ideas as well as the thoughts of people all around him. He combines all the information he manages to gather, to get something fruitful.
Alex Parker is really one of the most admired members of our organization. We can rely on him, regardless of the difficulty of the task to hand. He is a masterpiece of intelligence, commitment, perseverance, and creativity.
Thus, his application should be looked favorably.
Sincerely,
Samuel White
Title
QWER Company
Address
Phone
Email