Scotland Scholarships for Bachelor, Master and PhD Students Worldwide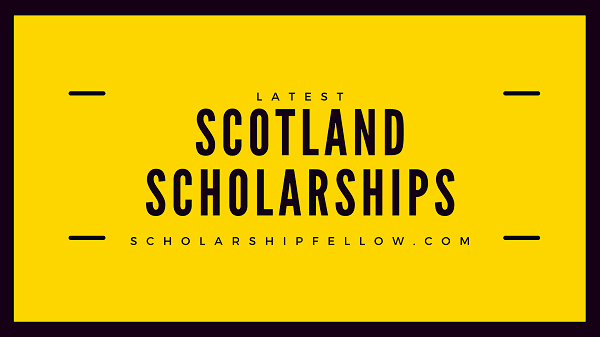 Fully funded Scotland's Saltire Scholarships For BS, MS and Ph.D. programs
Scotland's Saltire Scholarships (SSS) are Mutually funded by the government of Scotland and Scottish higher education. SSS has up to 100 grants for the bachelors, Masters and Ph.D. candidates who are willing to pursue their studies in any of the Scottish universities.
The purpose of these fellowships is to provide a fully friendly environment and facilities to the international students to study in Scotland. It also aims to promote Scotland as a key country for providing knowledge to other nations.
Scotland's Saltire Scholarships (SSS) Benefits
This Scotland scholarship is open to all BS, MS and Ph.D. students.
No application fee is required to apply for Scotland Saltire opportunity SSS
Monthly stipend including full tuition fee, Medical expenses, Tuition fee and all the expenses of laboratory and stationery will be provided by Scotland's Saltire Scholarships.
Eligibility criteria for Scotland's Saltire Scholarships
Please first apply for any university of Scottish education system. When you get the pre-admission letter then you are eligible for the SSS fellowships.
Applicant did not study before in Scotland as a full-time bachelor's student.
have not won Saltire Scholarship before.
The course applying for must be Bachelors, Masters, and Ph.D.
The Candidate should be a citizen of the Following countries: USA, Pakistan, Canada, India, and China. The Students from Hong Kong can also apply for this Scotland's Saltire fellowships.
Courses Selected should be full time and only studied in any of the Scottish universities. Online courses and Non-Degree Courses are not offered in this Scholarship.
Documents required for Scotland's Saltire Scholarships:
Attested copies of highest degrees. If you are applying for undergraduate Courses, then you need to have your Certificate and Mark sheets of your intermediate and Matriculation. If you are Applying for Master's Degree courses, then you should have your Bachelor's degree and transcript and so on.
All certificates should be in English. you need English proficiency certificate Like IELTS, TOEFL or Medium of instruction from your previous university.
You should have a valid Passport.
Statement of Purpose for the undergraduate students. You need to mention the courses name and Major you are applying for and also write the reasons why you want to study in Scotland.
Applicants who are applying for Master's Degree should write a Study Plan. It should consist of at least 800 words.
Candidates Who are willing to apply for a Ph.D. degree should write a research proposal on a specific research Area.
Scotland's Saltire Scholarship Application Procedure Step by Step guide
Step 1: Fill an online application for Scotland Saltire Scholarship. First You need to select a university which should be under the Scottish Saltire and Scottish Education System.
Step 2: Contact the University personnel and Try to get acceptance. Once you get the pre-admission letter then you are illegible for SSS grant. Note: Please keep in mind, you need to select and consult Universities by your own help. Every university may have different Admission criteria. Therefore you need to be very careful in selecting your course and university.
Step 2: Then select a Major you are interested in. The major you select should be in the list of Scottish Saltire Scholarships.
Step 3: Complete all Your Documents and Then Apply online for Scottish Saltire Grants.
Step 4: For online application, they will ask for university name and name of your course.
Names Of the Universities:
University of Highlands and Islands.
University of Aberdeen
Robert Gordon University
University of Dundee
University of Abertay Dundee
University of Glasgow
Glasgow Caledonian University
University of St Andrews
University of Strathclyde
University of Stirling
Glasgow School of Art
Royal Conservatoire Scotland
University of Edinburgh
Scotland's Rural College
Edinburgh Napier University
The Open University
University of the west of Scotland.
Hariot Watt University
You can choose any of the above-listed universities according to your area of interest. Then Contact the Scotland Universities regarding SSS opportunity for the admission in any of your desired degree or non-degree programs this year.
Eligible Countries
USA, Canada, Pakistan, India, China (Hong Kong)
For the official link of this Scotland Scholarship go there. Deadline for Scotland scholarship is May 12th