Top 10 Universities in Sweden – Study in Sweden for free
Top 10 Swedish Universities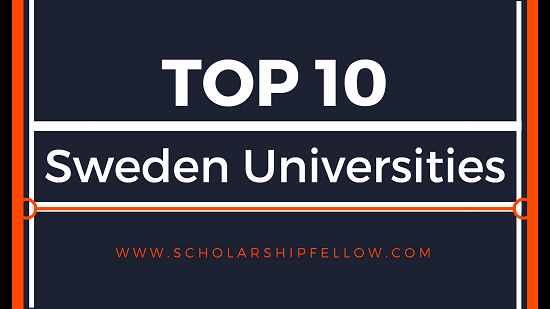 Sweden is one of the most attractive study destinations for students to travel for study purpose. Most of the Top ranked Universities are in Sweden that offers fully funded and partially funded scholarships to international students every year.  Students are required to submit admission documents as well as scholarship essay, study plan or research proposals to explain their motive to study in Swedish Universities in order to win a Swedish scholarship. Universities are important parameters of any society and in today's world every country has a substantial number of universities, so it is important to know at what a university stands in relative to others, and for this, universities are ranked. There are both international and national University rankings in almost all countries.
Top 10 Universities in Sweden for admission and scholarships
The first question to be answered is why University ranking is important? It is important because all the concerned families need the best academic value for money and time. Ranking allows comparing clearly the relative quality of education in different institutions based on widely accepted indicators. Likewise, despite being a very small country population-wise, Sweden is considered to be the home of many highly ranked universities.
According to Best Global Universities Ranking 2018, following 10 Sweden Universities fall in the Top 300 indexes globally:
The list of 10 top universities in Sweden is as follow:
1. Karolinska Institute
Falling in 52nd index globally, Karolinska Institute is the world's leading medical institute. It is offering a wide range of research and development in the field of medicine. It aims to provide ways to enhance human health conditions. It consists of only one faculty which is health science and medicine. It has designed its course in a way that is most feasible for international students as well as keeping English the medium of study etc, and karolinska institute scholarships are also being offered by this institute to international students. For further details, the institute official karolinska institute website can be accessed.
2. Uppsala University
With 99th ranked worldwide, Uppsala University is one of the oldest university in Sweden. Known for its extraordinary culture and diversified students, it is a home of 45000 students. It's well reputed for the research work and high-quality education. A wide range of courses is being offered by this university like Natural Science & Mathematics, Law, Social Science, Engineering & Technology, Computer Science & IT, Art, Design & Architecture, Humanities etc. To support the international students, Uppsala University is offering many Uppsala University scholarships as well. For more information, its official Uppsala University website can be viewed.
3. Lund University
Standing 85th position globally, Lund University has a reputation in research, and it has 40000 students along with 7400 staff.  Various diversified courses are offered by this university like engineering, science, law, social sciences, economics and management, medicine, humanities, theology, fine art, music, and drama. International students have also given Lund University scholarship for continuing education at Lund University. Official university Lund University website can be viewed for further information.
4. Stockholm University
Home of 70,000 students, offering 75 masters programs in English, Stockholm University is ranked 129th internationally. It is offering masters programs in science, humanities, law and social science, with English as a medium of instruction. The entry requirement criteria are different for each program. Moreover, a wide variety of Stockholm University scholarship is also available for students to pursue their academic journey. The official Stockholm University website can be accessed for more details.
5. KTH Royal Institute of Technology
With the rank of 208th worldwide, KTH Royal Institute of Technology is one of the most leading technical university not only in Sweden but in entire Europe, with its remarkable research work in the technology and innovation enhancement. A range of study options is offered by this university to the students in science and technology. It has 60 master programs and one bachelor program in English. Moreover, its doctoral program is also remarkable. The requirement to get into this university is different for each offered program. It also gives a KTH Royal Institute of Technology scholarship to students with exceptional academic performance. All further details are on its official KTH Royal Institute of Technology website.
6. University of Gothenburg
The University of Gothenburg having 37,000 students along with 6000 employees and it offers 70 various courses in English, apart from offering large no of programs in Swedish. 50 international 2-years master program in the field of social science, science, business, IT, educational science, health, art, music, fine arts, and design, and crafts are available in this university. Each program has a respective admission criterion. The university provides University of Gothenburg scholarship to international students involved in the master program, which mainly covers the tuition fee and accommodation expenses of the student during his degree period. Further information can be obtained from its official University of Gothenburg website.
7. Chalmers University of Technology
The Chalmers University of Technology is ranked 37th globally for its electrical engineering. It consists of approximately 3000 master's students, among which 30% are international. It is well reputed for having highly qualified teachers and extremely diversified environment. It also contains two research centers which are Chalmers e-Science Center and Center for Health Care Architecture, for the advancement of the respective field through research. It provides education in science, technology, shipping, and architecture. Its popularity also lies in giving various Chalmers University of Technology scholarships to international students falling in the respective criteria. The entrance criteria are different for each degree program. The official Chalmers University of Technology website can be consulted for further information.
8. Swedish University of Agricultural Sciences
Falling in 324th index globally, Swedish University of Agricultural Sciences is famous for the field of biological sciences. It comprises of many campuses, with the campus of Uppsala having the main university management.  It offers a range of courses in agricultural-sciences from bachelors to doctoral level. The entrance requirement varies for each course along the language requirement. The applications of the master program are opened in October every year. This university is also offering some Swedish University of Agricultural Sciences scholarships to the students. Use official Swedish University of Agricultural Sciences website for more details.
9. Umea University
Umea University is Sweden's fifth oldest university with the global ranking of 274 and considered among leading research-oriented European university. Variety of master programs, along with bachelors and doctoral, are available in this university. Umea University Scholarships are also being given by the university to the deserving students, and usually, the scholarship application is opened in January yearly. The official Umea University website can be viewed for further information.
10. Linköping University
Having a worldwide rank of 321,  Linköping University is offering the largest academic programs in Sweden, ranging from medicine, education, business, economics, and engineering. It has four campuses which are Campus Valla and Campus US (both in Linköping), Campus Norrkoping (Norrkoping) and Campus Lidding – Carl Malmsey Furniture Studies (Stockholm). This university also offers limited no of Linköping University scholarship to students with exceptional academic performance. For further details consult the university official Linköping University website.
Hence for continuing education, Sweden is one of the finest option, with its highly diversifies and well-reputed academic institutions.
Sweeden Universities are considered as one of the top destination universities among international students where they wish to pursue their higher education studies. Whereas, there are opportunities for international students to consider to apply for admission in Universities of Germany because of the free education scheme.