Full Ride Scholarship: Full Ride Scholarships Types | Apply for Full Ride Financial Aid
How to Apply for Full Ride Scholarships?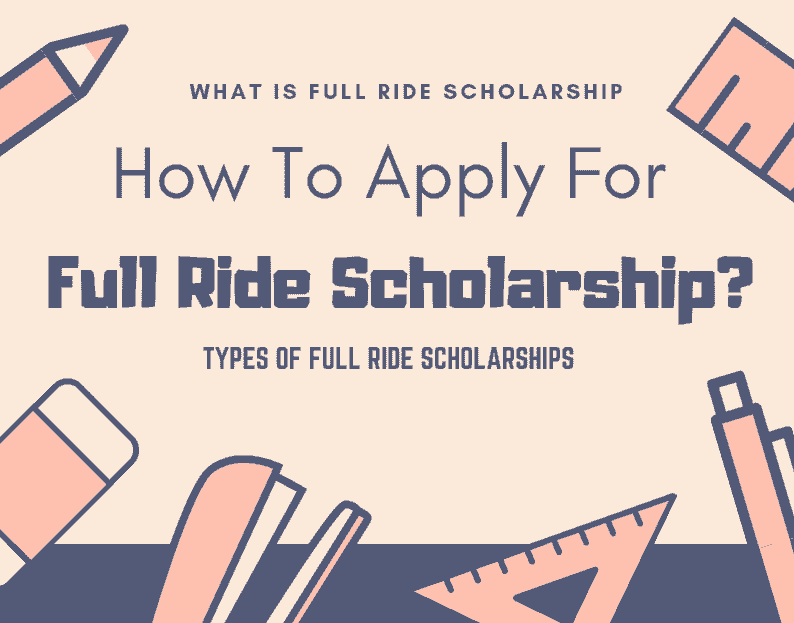 Introduction.
Full Ride Scholarship: A full-ride scholarship is an award that helps the most brilliant students to get funding to cover the complete fee of the college which includes tuition, boarding room, school materials, textbooks and sometimes even the study abroad expense and living allowances.
Surely, most of the students really wish to get a full-ride scholarship. There are over 86 colleges in states that offer Full Ride scholarships to the students.
Though one has to clear their strict requirements and guidelines to get this scholarship; anyone who proves their academic skills, merit, leadership or athletic ability, will be eligible to apply for the full-ride scholarship.
Most of these full-ride scholarship awards come from colleges and universities trying to attract the top students to their campus. Approximately about 1-3% of the students enrolled will get this full-ride scholarship award.
Who Should Apply For Full Ride Scholarships?
Those high school students who believe that they're the cream of the crop must apply for the full-ride scholarship program.  The candidate must have strong and specific examples of their community involvement, leadership skills, and outstanding character and should be the topper or at least should be in the top 10% of students in the class.
As these scholarship applications need you to write some personal statements or motivation letters, be sure that you are a strong writer too.
It is very difficult to find out a full-ride scholarship without any help. Sometimes, students consider getting admissions in tuition-free colleges instead of applying for a full-ride scholarship program.
Luckily, there are lots of experts with great experience to connect the right scholarship opportunities to the students by making it simpler for students to understand the process to apply for a full-ride scholarship.
Types of Full Ride Scholarships
Financial requirement based full-ride scholarships:
Some schools offer full-ride scholarships for the students that belong from lower-income families. Again, there are tuition-free colleges or private full-ride scholarships that consider merit or prestige and the financial requirement to decide the recipients.
Merit-based full-ride scholarship:
This is one of the common types of full-ride scholarship and is reserved for the students showing excellent academic performance. GPA, ACT scores, SAT scores or their combination is considered for determining this merit-based scholarship.
The government-sponsored full-ride scholarship:
The government offers this award to the students at the military academy or ROTC who meets the standards to become eligible for the full-ride scholarship.
Athletic based full-ride scholarship:
Students showing athletic ability can get full-ride scholarships and this is offered only for gymnastics, tennis, volleyball, football and men's and women's basketball.
How to apply for a full-ride scholarship?
Prepare ahead of time and make a list of colleges that offer Full Ride Scholarships and apply in all of them
Demonstrate educational excellence
Make sure your scholarship application documentation is complete and in order
Develop your contact with Instructors and Mentors to obtain their recommendations
Spend time in community service
Build up leadership skills
Full Ride Scholarship Application documents & other requirements?
If you are among the top 10% of students in your class or if you hold a GPA of 3.5 or above then you are eligible to apply for a full-ride scholarship in any top-ranked US college. Some of the colleges also offer sports-based and need-based full-ride scholarships to students with low grades as well.
Make sure you hold good scores in SAT, PSAT or ACT to be eligible to apply for a full-ride scholarship
Extracurricular activities are definitely a plus to support your application for a full-ride scholarship
Most of the colleges require Personal Statement to be written as a part of the Full Ride Scholarship application. The candidates have to write about their study goals and why they consider themselves eligible for a full-ride grant.
The candidates of Full-Ride Scholarships are also required to submit a letter of recommendation by their mentors or professor's from the previous institute along with their scholarship application.