TSP Scholarship Jiangsu University 2019 | Jasmine Talent Selection Program (TSP Scholarship) – Study in Jiangsu China
Jasmine Talent Selection Program (TSP Scholarship) Jiangsu University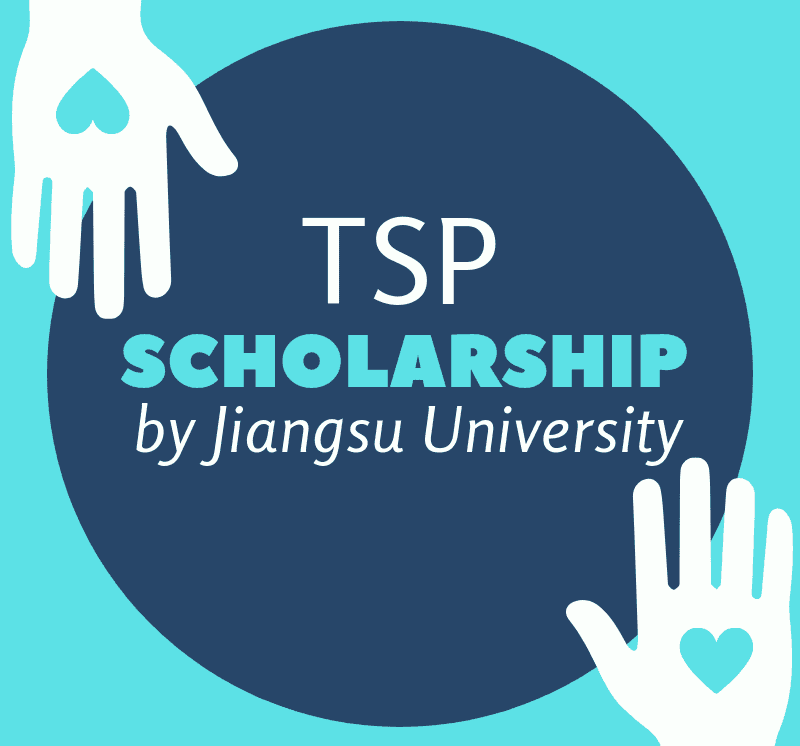 The Jasmine Jiangsu Government Scholarship has established a new TSP Scholarship to provide grants to international students which is also known as the Jasmine Talent Selection Program (TSP). The grants under TSP Scholarship program will be in addition to the Chinese scholarship that a student receives. The Jasmine TSP Scholarship of Jiangsu University aims to help outstanding students with their degree studies in Jiangsu. Many Chinese universities have adopted this program including Jiangsu University.
TSP Scholarship Jiangsu University Subject Offerings
The Jiangsu University Jasmine TSP Scholarship provides support to Masters and PhD students. The Jasmine TSP Scholarship will cover three academic years of study for the following majors;
Master/Doctoral Program in Traffic Engineering
Master/DoctoralProgram in Electrical Engineering
Master/Doctoral Program in Agricultural Engineering
Master/Doctoral Program in Control Science and Engineering
Master/Doctoral Program in Power Engineering and Engineering Thermo Physics
Master/Doctoral Program in Mechanical Engineering
Master/Doctoral Program in Food Science and Engineering
TSP Scholarship Jiangsu University Coverage
A TSP scholarship student's tuition, stipend, accommodation, and any medical insurance will be covered by the Jiangsu University under which he/she is admitted to the University. With a Jasmine Jiangsu TSP award, the student will also receive an allowance of CNY 10000 for every academic year over and above the scholarship amount from the government of Jiangsu.
TSP Scholarship Jiangsu University Eligibility Criteria for Applicants
An applicant has to possess a legitimate passport of a foreign country or possess nationality certificates dating back to four or more years. He/she must also furnish a genuine record of his/her residence overseas for a minimum of two out of the past four years, back-calculated from the 30th of April of the year of application to the program.
An application has to be made from abroad. However, this requirement is flexible and may be set aside if the applicant is an exceptionally brilliant new graduate from another university in Jiangsu and has been recommended for the Jasmine TSP program by the institution from which he/she graduated.
An applicant should be knowledgeable and unbiased in his/her views on China. He/she should follow all rules and regulations and should not have a criminal record against his/her name.
The applicant has to be healthy and fit as per the requirements of China's Exit and Entry Administration Law.
Students applying from countries where English is not spoken should provide legitimate proof of their proficiency in English.
The applicant's school grades should be above average and meet the standards laid down for admission to the Jasmine TSP Scholarship.
Applicants for the Master's programs should possess a Bachelor's degree and be a maximum of 30 years of age. Applicants to the Doctorate programs should possess a Master's degree and be a maximum of 35 years of age.
In order to prove his/her academic capabilities and performance at school are of the highest level and appropriate for admission to the Jiangsu University, an applicant has to submit 2 recommendation letters from professors/associate professors.
TSP Scholarship Jiangsu University Application Procedure
Applicants to the Jasmine TSP can download and fill out the application form here. The form and relevant documentation have to be submitted before the 30th of April and include the following;
The application form for the Jasmine Jiangsu TSP Scholarship,
A Personal statement in 500 or more words,
The applicant's certified educational degrees and academic records,
A copy of the applicant's passport and applicable residential certificates,
The applicant's health certificate or the completely filled in Foreigner Physical Examination Form,
Proof that the applicant does not have a criminal record,
Proof of the applicant's English language proficiency when he/she comes from a non-English speaking nation, i.e., TOEFL (score 80 or more)/IELTS (score 6.0 or more),
The applicant's study plan or research proposal at a minimum of 800 words,
Supporting documents such as awards, certificates of training, etc.
Only scanned copies of the documents should be submitted. Documents submitted at the time of application will not be returned. Originals have to be submitted when the applicant registers for the course.
Details on available programs, application procedures, and the various hosting universities can be found at:
The Jiangsu university will review all applications and make recommendations on merit. Applicant interviews may also be conducted. A review committee of the Jasmine Jiangsu TSP Scholarship will then go through the list of recommended candidates for a particular program and grant approval. The institutions that are a part of the Jasmine TSP, will inform the selected applicants about their pre-admission being confirmed and ask them to complete the formal admission procedure. The list of selected candidates will be put up on the 'Study in Jiangsu' website by the 30th of June.
Jiangsu University CSC Scholarships and Presidential Scholarships are also being offered currently.