Hubei Government Scholarship China Scholarship Council | Scholarships in China
Hubei Government Scholarships - Study in China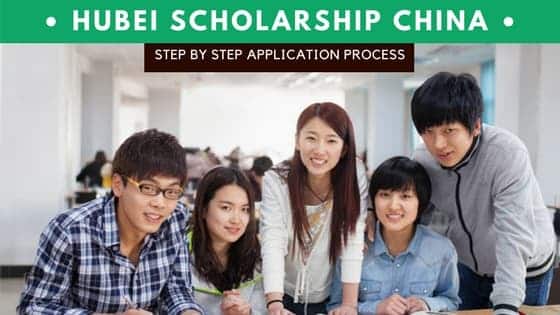 Similar to CSC Scholarships, Hubei Provincial Government Scholarships are also open to international students to study for free in the Universities situated in Hubei Province of China. In order to bring a change with the increase in development of studying abroad, and encouraging students from other countries to come and study in China. The Hubei province of China is providing scholarships to students from abroad so that more and more students can come to China for studies.
Hubei Government Scholarship Benefits
The Hubei Government scholarships are divided into five sub-categories:
Undergraduate scholarship= 10,000 RMB per year
Graduate scholarship= 15,000 RMB per year
Doctoral scholarship= 20,000 RMB per year
Scholarship for general scholar=5,000 RMB to 10,000 RMB per year
Scholarship for advanced scholar= 10,000 RMB to 20,000 RMB per year
Hubei scholarship application requirements
For the application purpose of Hubei Government Scholarship, there are some requirements announced by the Hubei government to study in any of the universities in Hubei province, such as:
Applicant should have a valid passport and should belong to a foreign country.
Applicant should behave nicely with other candidates and respect the laws.
For the application of Bachelor's degree program- 35 years of age required.
For the application of Master's degree program- 40 years of age required.
For the application of Doctoral degree program- 45 years of age required.
For Chinese language and Professional skill development program- the person should show at least one year of research papers.
For candidates of excellent academics- high school certificate, as well as one year of research papers, are required.
Hubei Government Scholarship deadline
The colleges start accepting the application from the month of February to the month of June.
How to apply for Hubei Government Scholarship?
The students who wish to study in the Hubei Province can directly contact to the Chinese embassy, and can whatever information regarding the admission.
Not only the students from abroad but also the student of Hubei can apply for studying in the Universities.
All the colleges, as well as Universities, accept the application form of scholarship from February to June.
All the colleges are covered under this scholarship plan and are thus fruitful for students seeking admission.
Universities related to the procedure:
List of universities in Hubei province in China:
Jianghan University
Wuhan Institute of Technology
Wuhan Institute of Physical Education
Document requirement of Hubei Provincial Government Scholarship China
The document material requirement for admission in Hubei Province Universities on Hubei Scholarship are:
Application form of scholarship filled by the candidate, this Hubei scholarship form can be downloaded from universities sites
Mark sheet of the last attended Institute such as bachelor or masters degree
Copy of passport
IELTS or TOEFL is not required, but an English Proficiency certificate must have to be attached
Acceptance letter given to you by any of the professor in any university in Hubei province could be a plus for you (Optional Doc)
Physical fitness certificate must also be completed and attached with a set of admission documents
Recommendation letter that was written by your professor from last attended institution
Study plan for master degree international students
Research proposal for Doctoral degree program students. Guide to write a well-structured research proposal can be a good asset for candidates to go through before writing one.
Personal statement document is optional
5 Steps to apply for Hubei Government Scholarship are:
Fill the Hubei scholarship application form and attach an above-mentioned list of documents with it
If required by the university, fill its online application form as well on university website you chose to study in
Find the address of the university to dispatch your admission documents
Post the documents and wait for the list of successful candidates announced by the university where you apply
Hubei government scholarship is offered by Hubei provincial government
Deadline:
Scholarship Applications should be accepted by all universities and colleges between February and June. More details would be provided by related universities and colleges. Click Here for more information.