Japan METI Government Internship Program 2019 – Japanese Internships
METI Government Internship in Japan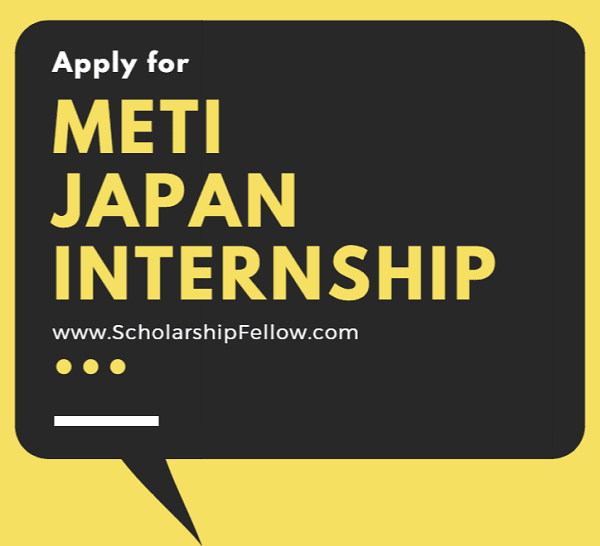 Last Updated on January 15, 2020
Internships in Japan for international students now open under Japanese Meti Government internship program. Meti government internship program is designed to recruit 100 international students for internships in Japan. Huge monthly stipends, heavy life insurance, outclass accommodation arrangements and return economy class tickets will be given to international students selected for internships in Japan under Meti Government Scheme this year.
Benefits for Internships in Japan under METI Government?
All international students who are currently enrolled in Bachelor degree programs and now willing to work in Japanese companies, industries or public sector companies are encouraged to apply for this Meti government internship program.
Japan internship duration under Meri government is designed for 02 months, so, international students will start their internship journey in Japan from 27th September to 21st December.
US$1000/month Stipend offered by Meti Government internship council
Outclass accommodation facility will be provided to interns in Japan by the company where they will be placed for an internship
Interns in Japan will be funded with return economy class tickets
Meti government covers the candidate's life insurance of worth up to Five million yens
Free preliminary courses funded by Meti Government besides internship placements
Computers and phones will be provided to winning interns sponsored by METI Government
How To Apply for Internships in Japan Sponsored by METI Government?
There is only one method to apply for Japan Internship program under METI government and that is to fill an online form and submit it. Committee will screen documents and finally call shortlisted candidates for interview to provide internship opportunity in Japan. After the successful interview, winning candidates for Meti Government internship program will be asked to submit documents in hard copy.
Documents Required for Internships in Japan under Meti Government?
To apply for Meti government internship opportunity student must entail the following qualities in him and holds the following listed documentation:
Candidate for Japan internship under Meti Government must be from an Eligible country
Japan Internship Eligible country List Here
International student have to be capable enough to manage his studies back at home together with internship and preliminary training in Japan
English Proficiency Certification is required or else Japanese Language Certification
How to get English Proficiency Certificate from your university? 
Age of an applicant for Japan internship program must be over 20 and under forty years
Applicants for Japanese Internship program must be able to produce a recommendation letter from the university where he/she is currently enrolled and also provide enrollment copy
Recommendation Letter Sample
He/she must fulfill all other requirements asked by the Japanese company where the winning applicant will be placed for internship
Online application link and Process after submission of an application for internships in Japan
Following steps will ease your understanding of Japan Internships selection procedures:
Screening of documentation performed by Meti Government Internship Placement Bureau
Candidates will be categorized for placement in various Japanese firms based on their abilities and host companies will be informed by Meti government internship department about the available candidates after candidate's interview
Finalization of contract among students and targeted company bonds together after approval form that particular company
Japanese public and private sector companies will contact students they have selected to tell about program commencing dates and will provide a mutual contract entailing stipend, accommodation, life insurance and other benefits listed in that contract
Students must apply for METI internship program before June 30.
At the end of the internship at Meti Japan, all participants are required to submit an internship report.