MEXT Undergraduate Scholarship 2019-2020 | Study in Japan
MEXT Japan Scholarship for Bachelor Degree Programs for International Students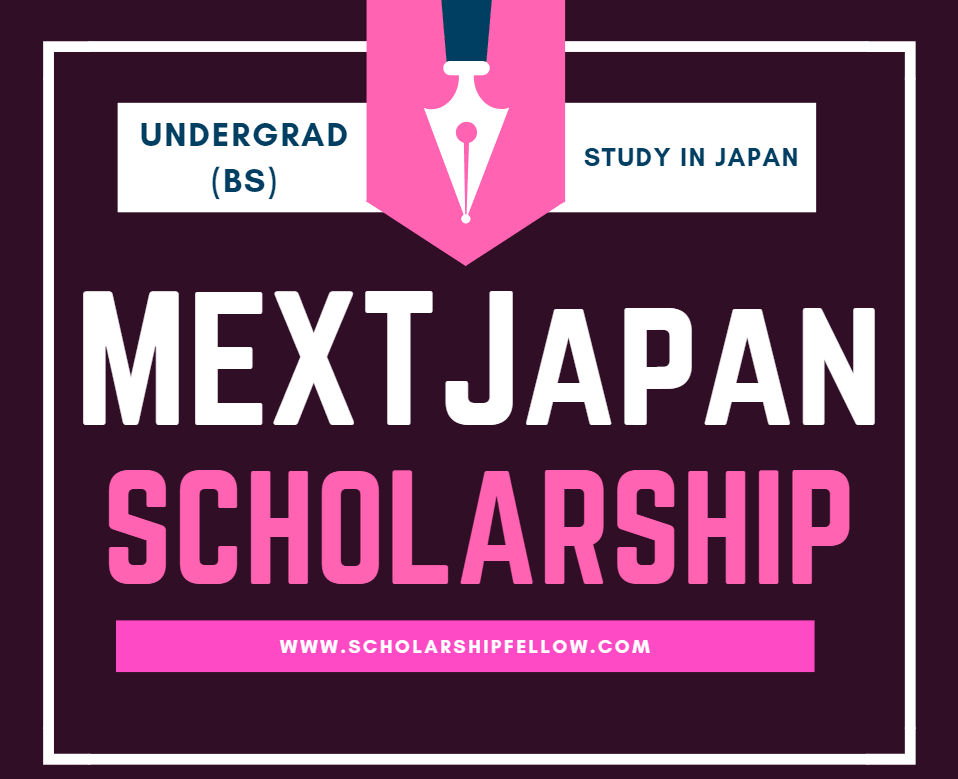 The MEXT Undergraduate Scholarship program in Japan' is offered on a yearly basis. For those who have attained 12 years in school and are below 21 years are eligible to apply. The MEXT Undergraduate Scholarship programs include science & engineering and humanities courses for all international students. You can read another post if you are looking for MEXT Postgraduate scholarship.
MEXT Undergraduate Scholarship Benefits
The MEXT scholarships are open from April every year. The grantees take the program for five to seven years with one year studying the Japanese language. The Japanese government gives school fees, a monthly allowance of 117,000 yen which is subject to change and return tickets.
The Japanese government pays admission as well as the tuition fees. The successful applicants are also awarded an allowance of 117, 000 yen per month which is subject to change. A one-year Japanese language preparatory course is offered for those who are not proficient in the language. The government also offers a return air ticket for the grantees.
The MEXT scholarship lasts for five years including the preparatory year course and these majoring in medicine, veterinary medicine, pharmacy, and dentistry takes up to seven years.  When the preparatory year is not applicable the applicants take four or six years respectively depending on their courses.
MEXT Undergraduate Scholarship Application Process
You have to see the website of your country first to obtain the country-specific information to apply for it. Please have a look at the website of the Japan embassy in your country, where the complete application procedure is given. Here we will elaborate the general procedure for all international students:
Applicants are supposed to provide their application forms together with official transcripts of the institution attended, and certificate of graduation or a letter from the institution terming their expected graduation date. The application forms can be downloaded from the website of the Japan embassy in your country.
Japan Embassy conducts the selection of candidates following a screening committee where the preliminary candidates are assessed and recommended to the MEXT. They undertake different examinations following the filled out courses. Social Sciences and Humanities majors must undertake Japanese, Mathematics and English exams.  The natural science majors must have a total of five subjects which include English, Mathematics, Japanese and two subjects selected from chemistry, biology or physics. The final selection of scholarship winners is however made by the MEXT Japan.
Upon completion of the preparatory course, a grantee is sent to the allocated university which is determined by the excellence of the entrance examinations and final placement is done by the MEXT where a grantee cannot object the decision.
Make a set of all the required documents and send them of the address mentioned on the country-specific Japanese embassy website.
If there is a test requirement for shortlisting the winners of MEXT scholarship then you will be required to appear in the test in your home country. That test will be organized by the Japanese embassy of your country.
IELTS or TOEFL are not required for Japanese scholarship
Opening and Closing dates of MEXT Undergraduate Scholarship
The following is the schedule used yearly which may have slight changes on dates from year to year. Note that the applicant might be successful, but the final result is confirmed by the university placement.
Application takes place in April up to early June (deadline for MEXT undergraduate Scholarship is June 13, 2019)
The  interviews are done in mid and late July
The results of the interview are released in August
The results of MEXT selection (Tokyo) are expected in November
The final results are transmitted from December to February
The pre-departure orientation takes place in early March
Departure to Japan happens in Early April.
MEXT Undergraduate Scholarship Eligibility:
The Applicants:
Must be from the partner country to accept MEXT applicants. You can find the website of the Japan embassy in your country and find out if they offer a MEXT scholarship or not.
Should be 21 years and below as of the departure time.
Must have attended and completed 12 years or a graduate in a school which is upper or equivalent to Japan secondary schools.
Should have an interest in learning Japanese as well as study in the Japanese language.
Should be of sound mind and good physical health.
Must be able to go to Japan between the 1st and 7th April.
Note: The applicants may be considered as ineligible if:
They fail to arrive in Japan at the needed time.
They are active servicemen or civilian military employees.
They are already enrolled in Japanese universities.
In the past, they have ever been awarded a Japanese Government scholarship.
The applicant has another scholarship which comes at the same time as the MEXT Japanese scholarship program.
List of courses offered by MEXT Scholarship in Japan:
The applicants are allowed to give their specific field study and are not permitted to change between natural sciences A, B, and C, or social sciences and humanities A and B nor social sciences, natural sciences, and humanities.
Social sciences and Humanities A include law, history, politics, Japanese language, pedagogy, literature, sociology among others.
Social sciences and Humanities B include business administration and economics.
Natural Sciences A is categorized into:
Science: physics, chemistry, and mathematics
Mechanical studies:  naval architecture and mechanical engineering
Electrical and Electronic studies: Electronics, Information, and Electrical engineering.
Chemical studies: industrial chemistry, Chemical, and Textile Engineering and applied chemistry.
Architecture and civil engineering: Architecture, Environmental and Civil Engineering.
Biotechnology, Maritime, Metallurgic and Mining Engineering.
Natural Science B includes:
Science; Biology
Agricultural studies which incorporate Animal science, forestry, Food Science, Fisheries, Agriculture, Agricultural Engineering and Agricultural chemistry.
Hygienic studies that include nursing, pharmacy and hygienic.
Natural sciences C that includes dentistry and medicine.
You can download the application form from the Japanese website page for MEXT scholarship and then make a set of non-stapled documents they require and post them on the mentioned address. For example, here the Japanese embassy link for MEXT scholarship for Pakistani students, where students are required to send their documents to the embassy address. Other international students can check their country-specific Japanese Embassy website to find their application process.