Shanghai Jiaotong University SJTU CSC Scholarships | Scholarships in China [UPDATED]
SJTU CSC Scholarship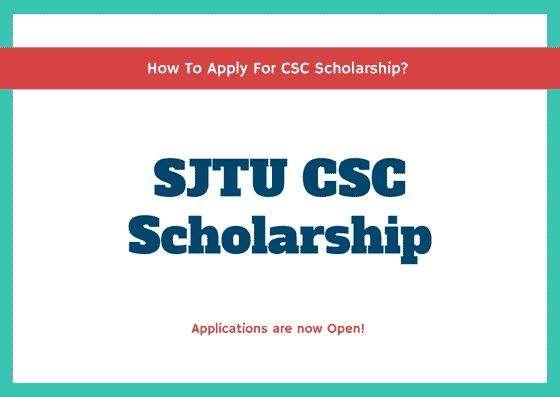 Shanghai Jiaotong University SJTU CSC Scholarship admissions are now open to international students for master and Ph.D. programs. Shanghai Jiao Tong University (SJTU) CSC Scholarships are categorized in a different manner in contrast with the CSC scholarships of other Chinese Universities. The breakdown of CSC Scholarship grants in SJTU are as follows:
Read more on CSC Scholarships
CSC Scholarship SJTU (Ph.D. Program)
Type A SJTU CSC Scholarship: 
A1-CSC SJTU Scholarship (4 Years): Monthly Stipend 4000 RMB/month
A2-SGS SJTU Scholarship (4 Years): Monthly Stipend 1500 RMB/month
Type B SJTU Scholarship China
(4 Years): Monthly Stipend 2500 RMB/month
Type B SJTU Scholarship China
(4 Years): Monthly Stipend 1500 RMB/month
CSC Scholarship SJTU (Master Degree) SJTU CSC Scholarship
Type A
81,300 RMB a year
Stipend is 3000 yuan & room 1200 yuan
Type B
64,400 RMB a year
Stipend is 1700 & room 1200
Type C
44,200 RMB a year
Stipend is 0 & room 1200
Type D
29,600 RMB a year
Tuition Fee Free
CSC Scholarship in SJTU is accepting students now so please have a look at our step by step admission guide below:
SJTU CSC Scholarship Online Application Procedure
Application requirements for SJTU Scholarships are listed here:
Chinese language requirements are dependable on the choice of your degree course at SJTU.
English language requirement is waived off if you belong from a native English speaking country or if you studied your undergraduate degree from any native English speaking country.
Candidate must be healthy, posses an impressable academic background and must not be a Chinese citizen.
How to submit CSC Scholarship application at SJTU?
Submit an application at CSC scholarship website online for CSC Scholarship sponsorship.
Agency number of Shanghai Jiaotong University (SJTU) is 10248.
Submit another application for admission in SJTU Admissions online application website.
Deposit an application processing fee of 800 Chinese yuan in SJTU bank account.
Make two sets of documents containing: English proficiency certificate/IELTS/HSK, two recommendation letters, transcripts, passport copy, study plan or research proposal, passport size photographs, medical form and receipt of deposited application fee.
Applications open every year from December 1st.
Deadline for SJTU CSC Scholarship is 31st March.
Deadline for SJTU Self supported programs is 31st May.
List of programs offered by SJTU:
List of SJTU departments:
Before you begin your next academic journey in China, a quick read on the article about the student guide to study in China is highly recommended.