Swedish Institute Scholarships for Global Professionals 2019 – Sweden Scholarships
Swedish Institute Scholarship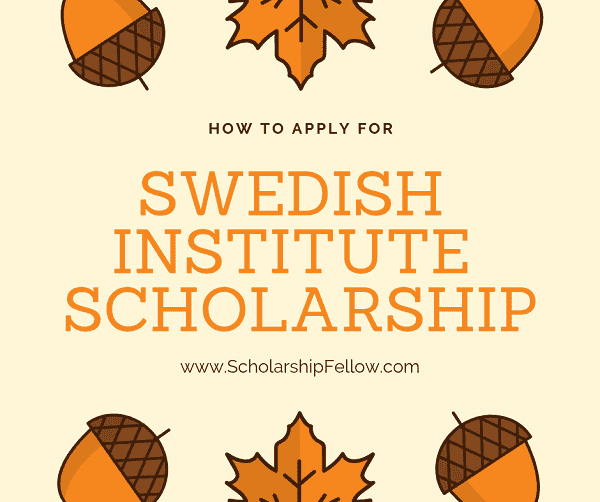 Last Updated on January 15, 2020
Swedish Institute Scholarships for Global Professionals 2019 are now accepting applications from students to provide them with free education in Swedish Universities.
Are you one of those students who're ambitious and passionate towards their subjects? Do you think you possess a strong leadership experience and a secure professional background? Then, we're here to save you.
Here's how you can earn a master's degree from a Swedish Institute on a fully-funded Swedish Institute scholarship for Global Professionals (2019). Go ahead and find out if you're eligible.
The Swedish Institute Scholarship for Global Professionals 2019
The Swedish Institute Scholarships for Global Professionals is a scholarship program funded by the Ministry for Foreign Affairs of Sweden as a part of the Swedish government's "International Awards Program".
The Swedish scholarship program is aimed at creating academic, leadership and professional opportunities for passionate youngsters all across the World, in order to help them play an active role in the United Nations 2030 Agenda for Sustainable Development.
The ideal candidates for the Swedish Institute Scholarships program for Global Professionals are determined yet young professionals with high-profile academic records, strong work and leadership experience, passion to contribute towards sustainable development in their own country, and a crystal clear yet concise knowledge regarding the perks of a Swedish study program.
Swedish Institute Scholarship Coverage and Benefits
The tuition fee is directly paid by the Ministry for Foreign Affairs of Sweden to the Swedish university.
The total cost of living in Sweden (approximately SEK 10,000/month) will be directly provided to you.
A travel allowance of approximately SEK 15,000 will be provided to you directly. However, the travel allowance will only be paid once at the start of the program. (Note that the travel allowance will not be provided to the students or professionals who're already residing in Sweden).
The program provides health as well as accident insurance.
Membership of the Network for Future Global Leaders – A platform that allows you to develop powerful professional skills and build a wide network of associates during your time in Sweden.
Membership of the Alumni Network after you've graduated – A platform that allows you to continue your development and networking even after the period of your scholarship.
The Swedish Institute Scholarship Eligibility
You must have work experience of at least 3,000 hours.
You must possess some kind of leadership skills gained by your work experience.
You must possess the resources to be able to pay the cost of the tuition to the Swedish university you're applying into.
You must have properly followed the admission procedure.
You must belong to one of the following countries: Nepal, Sri Lanka, Cameroon, Pakistan, Bangladesh, Ghana, Tanzania, Brazil, Bolivia, Morocco, Sudan, Nigeria, Rwanda, Cambodia, Peru, Vietnam, Uganda, Jordan, Malawi, Zambia, Honduras, Colombia, Ecuador, Egypt, Gambia, Philippines, Liberia, Guatemala, Indonesia, Ethiopia, Kenya, Myanmar (Burma), Tunisia, Zimbabwe. (Note that the conditions may differ in case of dual citizenship).
How to apply for the Swedish Institute Scholarship?
You must utilize the motivation letter.
You must utilize the template for CV, personal statement
You must utilize the SISGP letter of reference form available at the SISGP website based upon your previous employment experience. (In case of any type of involvement with any type of civil organization or network, utilize another SISGP letter of reference for a plus point).
You must utilize the proof of employment as well as leadership experience form available at the SISGP website.
(Note that the forms must be typed, printed, signed and stamped by a notary or a refereed organization)
You must attach a copy of your passport including all of your personal information (name, citizenship as well as your photograph).
Swedish Institute Scholarship deadline
The deadline for the Swedish Institute scholarship is February 15, 2019.
Furthermore, the Swedish Institute scholarship is given for the duration of the master's program (a one-year program or a two-year program). Besides, the scholarship is awarded only for the programs that start in the Autumn.
Since the competition for the SISGP is way too high right now, we recommend that you keep an eye on other scholarship programs as well.